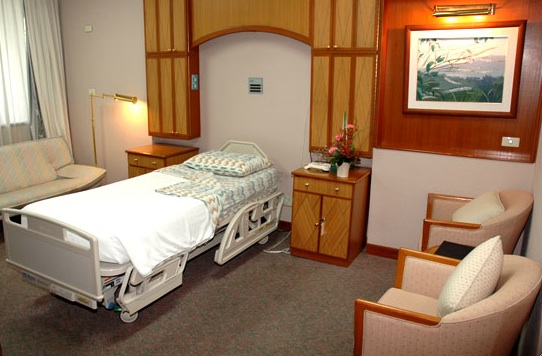 If you're thinking that these are pictures of a famous 5-Star hotel located in a famous tourist destination then you are partly correct.

Bumrungrad (Thai meaning "care for the people") International
is an internationally accredited, multi-specialty hospital located in the heart of Bangkok, Thailand. It's the largest private hospital in Asia and well known for it's medical tourism. Millions of patients come every year to have their medical procedures because health care is cheaper in Thailand and the hospital is fully staffed (
700+ nurses and 945 doctors, covering 55 sub-specialties) and has all the latest medical equipment and facilities. Red Cross gives Bumrungrad its top classification of "A" – defined as "a tertiary care center which should be able to provide quality care in all medical specialties including invasive cardiology, cardiac and neurosurgery."
And speaking of specialized doctors, Bumrungrad even has a golf doctor. Yes they have a golf course and an in-house ortophedic doctor/surgeon that not only cures golf-related injuries but help you improve your game! How cool is that.
And yes,
Bumrungrad
is a tourist destination/hospital that offers a shopping center, restaurants, and fully furnished private rooms. The room amenities include private bathrooms, cable TV, refrigerator, DVD players (available on request) and high-speed Internet connections. Suites also come with full kitchens as well as washing machines and dryers (available at one bedroom apartment up). The shared facilities include a swimming pool, Jacuzzi, sauna, steam room. And did I mention maid-service?
But before you pack your bags to have a cheap cosmetic surgery and recuperate in a 5-star hotel suite you better think twice. Because Bumrungrad has some secrets behind it. Just like the death of 23 year old
Josh Goldberg
who died because of malpractice but Bumrungrad is protected from medical suits since it is a huge money earning company that brings a lot of income to the Thai government so it's natural to protect this gold mine from being exposed.
Bumrungrad has also been speculated to harvest organs from live patients that is why it's quite easy to get organ "donors" from Bumrungrad. But all of these are not proven because they are all perfectly covered up as said by
bumrungraddeath.com
.
But aside from these controversies Bumrungrad International is still such a wonderful place (for the filthy rich anyway). So if you plan on staying at Bumrungrad or any hospital for that matter please take note of these reminders/tips:
Always have a watcher with you at all times. You don't want to be a victim of organ theft or dying due to malpractice.
Always ask for explanations for all procedures and treatment, especially medications. Doctors might be blinded by greed and over treat a patient to get more pay from insurance.
Take note of all expenses and know the "hidden charges" are carefully tagged as miscellaneous fees and don't hesitate to ask what these fees are for even before checking in to any hospital.
Check the accreditation of the doctors and staff.
Refer to friends and relatives for feedback on their hospital stays so that you will be aware of what to expect.
Let us remember that health care is now a business (sadly). So let us not be victims of large greedy health corporations and let us protect our rights by always being informed.
***
Sources:
Bumrungrad International
Bumrungrad Death