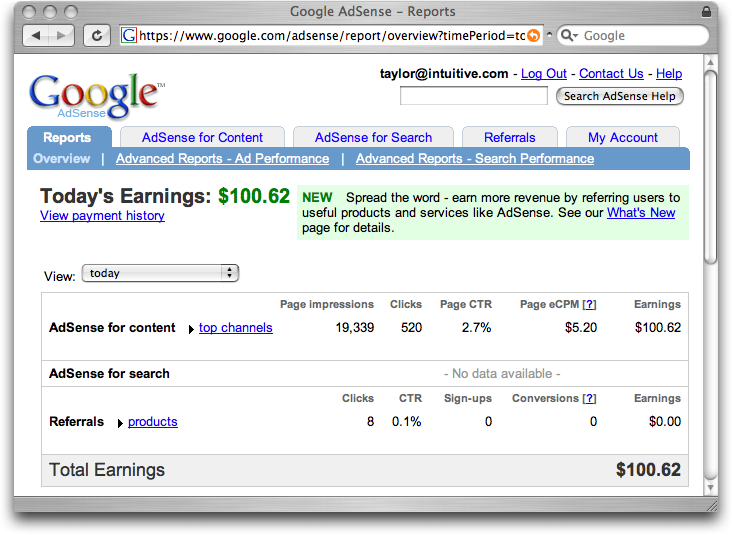 It has recently occurred to me that the number of bloggers has actually grown and that blog sites are popping like mushrooms everywhere. For those who don't know what a blog is, it is like an online diary or a site where you post your reviews, thoughts, pictures, videos, and whatever media you my have.
As a friend of mine commented, people are going Adsense addicts. Adsense by the way is a great new product by Google that allows you to earn money by allowing ads to flash on your webpage. The more page impressions or clicks and referrals to those ads, the more money you own. Unfortunately on my part, I only get around 10 people who visit my blog every day and this would earn me only a few cents. But hey I did already earned around $6 since last year. This is a great feat for an amateur personal blogger as my self.
But I am quite impressed by the blogs of my friends. Their blogs have such substance that makes my blog seem so shallow and all, but hey it's a personal blog after all right? I can post anything I want no matter how boring it is. But seeing those blogs of my friends poses a great challenge to me. I will improve my blog, not just to earn more money but for personal satisfaction too. Maybe once in a while I'll place my reviews on gadgets, movies, or whatsoever because my friend said that reviews tend to get more viewers.
Anyway here are some blogs of friends and contacts that really caught my attention:
http://republikaneri.blogspot.com/
http://laytech.blogspot.com/
http://kirbitz.blogspot.com/
http://mikekrismac.blogsome.com/
http://yu-rico.blogspot.com/